Ubuntu Hour is a chance to meet up for an hour and chat with other Ubuntu users. The meeting is open to anyone interested whether they use Ubuntu or not, and everyone's welcome with no commitments or RSVPs. It's definitely a good opportunity to bring along friends who are curious about Ubuntu.
Not only is it fun to meet local Ubuntu fans, but we can also be a valuable introduction to Ubuntu for others. Wear that cool Ubuntu or Linux shirt or bring your laptop with the Ubuntu stickers, if you have them. We'll also follow the Ubuntu Code of Conduct while we're there. Easily summarized as "be excellent to each other," it means that we'll be good examples of the wonderful Ubuntu community.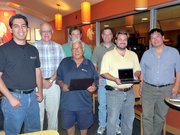 Upcoming dates
After 25 months meetings, I am no longer organizing an Ubuntu Hour in Lake Forest, California, but the final dates were:
Thursday, April 19, 2012, 6pm - 7pm
Thursday, May 3, 2012, 6pm - 7pm
Thursday, May 17, 2012, 6pm - 7pm
Thursday, May 31, 2012, 6pm - 7pm
Thursday, June 14, 2012, 6pm - 7pm
Thursday, June 28, 2012, 6pm - 7pm
Please feel free to plan your own Ubuntu Hour gathering near you!
Location
Panera Bread (Yelp) (Google Maps)
23592 Rockfield Blvd.
Lake Forest, CA 92618
Panera Bread is a casual restaurant that has fresh bread, soups, and sandwiches and free wi-fi access. We're the group with a laptop or two and some Ubuntu logos, so please feel free to come up and say hi.
---