Welcome to nhaines.com
I'm a long time technology enthusiast, and I love contributing to Free Software, teaching computing skills, and performing freelance computer repair. However, I never seem to get time to work on my own website.
For the moment, you can read selected blog posts from 2014 onward.
There is also a page with the early work I've done for the Ubuntu California Local Community team.
I wrote a book!
Beginning Ubuntu for Windows and Mac Users is published by Apress and is available now from Amazon and for order from your local book retailer.
More information about my standalone published work is available on my Amazon Author Page.
Latest blog post
August 31, 2017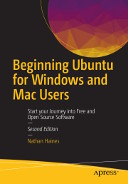 Where do I begin? That's the challenge ahead of anyone who tries something new. And the first step of any new experience. Sometimes this can be exciting, like when you sit down to try food at a new restaurant. Other times the question is paralyzing. Taking the first step is difficult when the path is unclear or unmarked.
Ubuntu is the world's third most popular operating system. It powers twenty million desktop computers, and untold servers. But for even more people who grew up using Windows or OS X, their operating system is the computer. Ubuntu's Linux and Unix heritage are no longer its greatest strength, but its biggest drawback. But it doesn't have to be.
---